Fall 2018 Wine Class
Individual tickets, register here. Group tickets/questions, contact wine@philomathean.org
Back by popular demand, the Philomathean Society is reinstituting its annual wine class!
The members of the Philomathean Society of the University of Pennsylvania invite you to join us in our Fall 2018 Wine Tasting Course, led by Mr. Ron Marsilio, a sommelier with over three decades of experience in the food and wine business. We recommend attending as many classes as you can since they all cover different topics and will cover different kinds of wine.
Dates: 18-Oct-2018, 25-Oct-2018, 08-Nov-2018, 15-Nov-2018, 29-Nov-2018 (all Thursdays)
Time: Doors open at 8.00 pm, class from 8.30 to 10.30 pm
Venue: Halls of the Philomathean Society, 4th Floor, College Hall
Price: $35/ ticket, $30 if you buy 10 or more tickets
Eligibility: All participants must be 21 years of age (at minimum 3 days prior to the event) or greater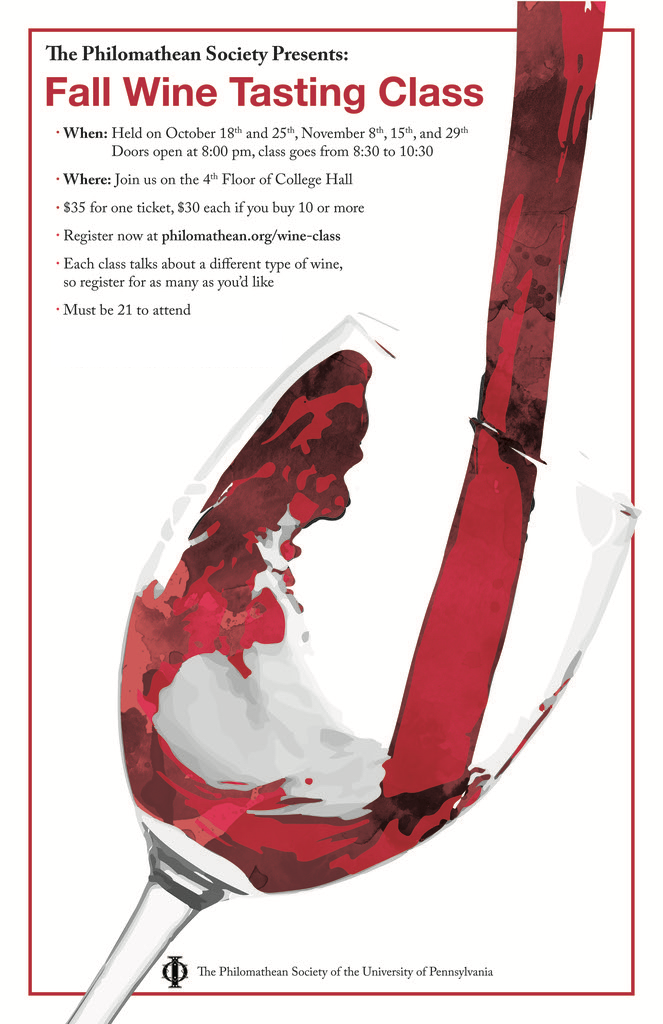 For terms and conditions visit the individual tickets link above.
Session 1 | 18 Oct, Thursday:
The importance of place in grape growing
The construction of and the components in wine
Label reading
Palate evaluation and the Zen of tasting
How to taste wine like a pro
Wine and food tasting
Session 2 | 25 Oct, Thursday:
In depth study of "light-bodied" wines
The importance of acid in wine
Evaluating the simplest of wines
Tasting and food pairing
Session 3 | 8 Nov, Thursday:
A look at "medium-bodied" wines
The roll of weather on the outcome of wine
An in depth comparison of Old & New World wines
Tasting and food pairing
Session 4 | 15 Nov, Thursday:
A treatise on "heavy-bodied" wines
The role of Malolactic Fermentation and tannin
Oak treatment and Batonnage
Tasting and food pairing
Session 5 | 29 Nov, Thursday:
Champagne, Sparkling and Fortified wines
Differing carbonation methods
History and role of sparkling wines
Fortification methods and history
Sparkling & Port tasting with food pairings