Performances and Drama
The Philomathean Society has a long and proud history of performance, both as hosts of dramatic performances in the Philomathean Halls and as performers themselves. See the posts below for examples of past performances!
Past Event: The Shoemaker's Holiday
THE SHOEMAKER'S HOLIDAY
An Elizabethan comedy by Thomas Dekker, presented by the Philomathean Society in the Botanical Gardens of the University May 15th, 16th, and 17th, 1912.
We haven't found a synopsis, but it seemed to involve some great moustaches.

STARRING:
R.T. Bonsall as Sir Hugh Lacy
A.C. Hopkins as Sir Roger Oately
G.W. Rowley as Lacy, otherwise Hans
W.D. Shelly as Simon Eyre, the shoemaker
E.L. Hargett as Hodge
C.C. Butterworth as Firk
W.H. Trumbauer as Margery
W.F. Clinger as Jane
R.G. Adams as Ralph
A.L. Arnold as Dodger
W.G. Arnold as Rose
G.L. Arnhold as Sybil
D.R. Jones as Boy
L.F. Sanville as Master Hammon
L.A. Sylvester as Serving Man
H.D. Learned as the King
F.A. Child and J. Dolman, Directors.
W.M. Crowe, Stage Manager
S.L. Shanaman, Play Committee Chair
Show Post
Past Performance: Inherit the Wind
On November 14-16, 2008, the Philomathean Performance Committee performed Inherit the Wind, by Jerome Lawrence and Robert Edwin Lee, in the Philomathean Halls.
Synopsis
The play starts out with two characters named Howard and Melinda hanging out at the lawn of Hillsboro courthouse, Howard looking for worms after a large rainstorm. Howard tells Melinda, "When the whole world was covered with water, there was nuthin' but worms and blobs of jelly. And you and your whole family was worms!"
We are then introduced to Rachel, who goes to the courthouse to visit colleague Bert Cates in jail. Mr. Meeker gladly lets them talk while keeping Rachel's promise of not telling her father. After a small conversation between Bert and Rachel, we find out Bert was jailed for teaching Darwinian theory in a public high school. Rachel attempts to get Bert to admit he was sorry and "did wrong" but Bert believes he did not do anything wrong. Rachel leaves after failing, not before Bert embraces her, asking her to love him.
The play switches to the arrival of Matthew Harrison Brady, and the arrival of reporters and spectators. The small town welcomes Brady into their community and throw a picnic for him and his services. The arrival of Henry Drummond, for the defense, is not received very well because he is agnostic. The play speeds up as the trial begins for Cates and the battle between the two oratorical giants of the era.
Cast:
Bertram Cates———————Allen Ruan
E.K. Hornbeck———————Stephen Sandford
Elijah/Dunlap———————David Marcou
Hawker/Bannister——————Phil Rocco
Henry Drummond——————Andrew Matas
Howard————————–Danielle Heitman
Judge—————————-Becky Lu
Matthew Harrison Brady————–Jon Moorman
Mayor—————————-Alec Webley
Meeker/Mrs Krebs——————Julia Harte
Mrs. Brady/Melinda—————–Marshall Bright
Rachel Brown———————-Megan Edelman
Reverend Jeremiah Brown————Greg Hamill
Storekeeper/Sillers/Reporter———-Chris Hillard
Tom Davenport/Photographer———Nathan Green
Director—————————–Chris Hillard
Show Post
Past Performance: Julius Caesar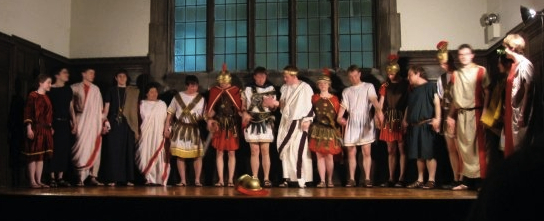 On April 9, 10, and 11, 2009, the Philomathean Performance Committee presented Shakespeare's Julius Caesar, one of his finest and most powerful tragedies, in the ARCH Auditorium. Julius Caesar pits a group of noble (and ignoble) conspirators against the most powerful political force in the Western World. Join Brutus and Cassius, as well as a star-studded cast of Philos and Penn students, as they struggle to save the Roman Republic from its own success.
The play was directed by Christopher Hillard in strict accordance with Roman Virtue, Dignity and Verisimilitude.
Starring (in order of appearance):
Alec Webley as JULIUS CAESAR
Megan Edelman as MARK ANTHONY
Andrew Matas as MARCUS BRUTUS
Julia Harte as CAIUS CASSIUS
Nathan Green as CASCA/CLITUS
Barry Slaff as CICERO/STRATO
Aro Velmet as DECIUS BRUTUS
Emily Kern as CINNA/CATO
Amber Weekes as CALPURNIA/LEPIDUS
Armin Gollogly as METELUS CIMBER/TITINIUS
Max Greiner as TREBONIUS/MESSALA
Becky Lu as PORTIA
Jan Stejskal as OCTAVIUS CAESAR/ARTEMIDORUS
Robert Hass as LUCIUS
Stephen Sanford as PLEBEIAN
With Special Guest Star:
Ramon Miyar (C '08) as THE SOOTHSAYER
On the final night, a recording of the first act was made and is available for viewing.
Show Post
Past Performances: Edward II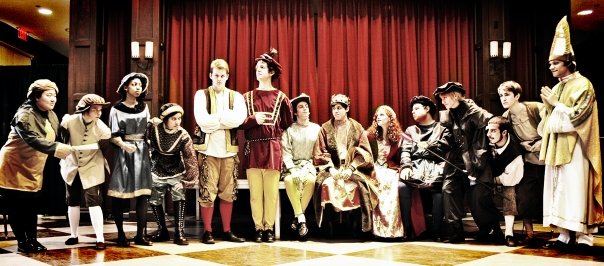 On April 6 and 7 2008, the Philomathean Society of the University of Pennsylvania held the first production of the revived Performance Committee, Christopher Marlowe's acclaimed play, "Edward II," in Houston Hall's Hall of Flags.
STARRING
Ramon Miyar as King Edward II
Christopher Hillard as Mortimer
Rebecca Cook as Queen Isabella Valois
Andrew Kincaid as Gaveston
Brian Gelletly as the Earl of Kent
Lauren Frazier as Warwick
Sharon Li as Lancaster
Megan Edelmann as Spencer
Matthew Walsh as Gurney
David Marcou as Matrevis
André Gregori as The Archbishop of Canterbury
Becky Lu as Arundel
Brooke Palmieri as Lightborn
Alec Webley as Prince Edward
Synopsis
Written in the early 1590s, Edward the Second was one of Marlowe's last major works. It is set in the early 14th Century, when England was threatened by war in Scotland, France and Ireland. It begins with the return of King Edward's "favorite," Piers Gaveston, to England, who was exiled by Edward I because of his "bad influence" upon his son. Henceforth, the plot revolves around the intensely homoerotic relationship between Gaveston and the King. The court, led by the Earls of Mortimer and Lancaster, is incensed by the return of Gaveston, whom the King showers with titles, land, and wealth incommensurate with his social status. And for these nobles, confronted with Edward's incompetent management of the State, and his disregard for their advice and demands, this is the last straw. They demand that the King return Gaveston to exile, or face open rebellion, at which insolence, the King naturally balks. The nobles respond by taking matters into their own hands, murdering Gaveston, and offering Edward peace, sending him on a bloodthirsty quest for vengeance upon the murderers of his lover.
Show Post