The Annual Oration
The highlight of the Society's academic year, the Annual Oration is an address to the campus community from a prominent public intellectual organized by the Society and usually featuring the co-sponsorship of multiple university departments, offices, and student groups. We are attempting to collect details of all of the Society's past AOs; if you know of errors and omissions in the below list, please contact the Senior Reviewer.
Some previous Orators have included:
2017: Jane Goodall, on her life and work
2016: John Mearsheimer, "The Failure of US Policy in the Middle East"
2015: Sylvia Nasar, "The Revival of Marxism"
2014: Julian Treasure, "How to be Heard"
2013: Richard Dawkins, "Proof, Science, and Skepticism"
2012: Gary Kasparov, "Applying Chess Decision-Making to Life"
2011: Jared Diamond, "Why Societies Fail or Choose to Succeed"
2010: Judith Butler, "From Performativity to Precarity"
2009: Stanley Fish, "What Professors Should and Shouldn't Do in the Classroom"
2008: Daniel Dennett, "From Animal to Person: The Role of Cultural Evolution"
2007: Vali Nasr
2006: John Lukacs
2005: Malcolm Nance
2004: Arthur Miller
2003: Salman Rushdie, on his life and work
2001: Brian Greene
2002: Joe Klein
2000: Fareed Zakaria
1990: Joyce Carol Oates, "Family"
1978: Tony Auth
1974: Andrew Sarris, "The American Cinema"
1972: Susan Sontag
1968: Nat Hentoff, Is There Life Before Death?"
1966: Prof James MacGregor Burns, "Increase Planning"
1957: Hans Morgenthau
1956: Clyde K.M. Kluckhohn, "The Antropology of Russia"
1955: Henry Steele Commager
1888: Hampton L. Carson
1845: Henry Gilpin, "Enthusiasm"
1840: George Bethune, "Work"
1838: Prof. William Brad Reed, "The American Revolution"
1836: Thomas M. Pettitt, "Education"
1832: James C. Biddle, "The Real Patriot"
1827: Joseph Ingersoll, "The Value of a Study of the Classics"
1826: George Bacon Wood
Annual Orators of unknown dates include:
Joe Klein
Hon. George Sharswood
Lincoln Eyre
John Ciardi
Ayn Rand
Andrew Sullivan
Camille Paglia
Margaret Mead
Jerzy Kosinski
C. Everett Koop
William Styron
George Plimpton
2016 Annual Orator: Dr. Jane Goodall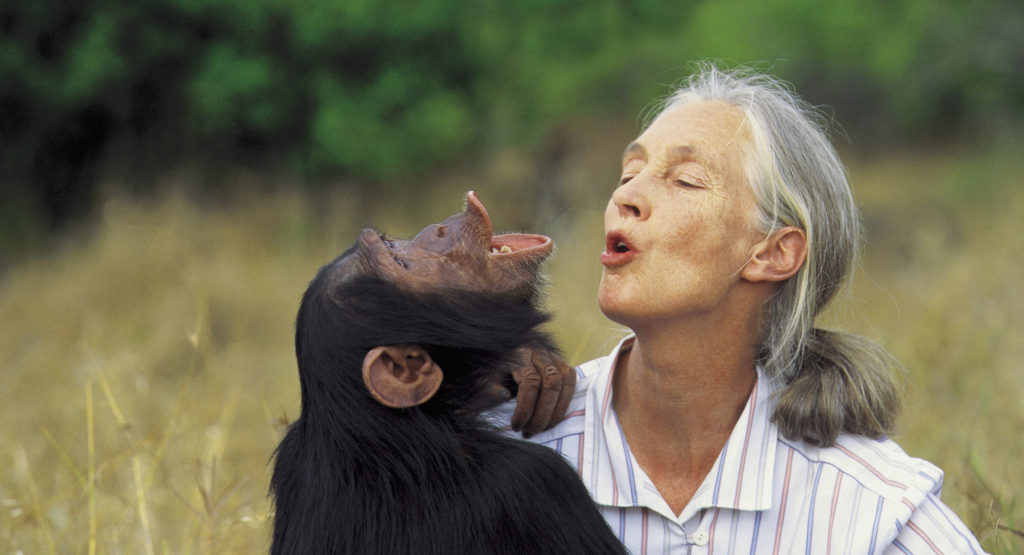 Dr. Jane Goodall with Motambo, an orphan at the JGI Tchimpounga Chimpanzee Rehabilitation Center.
Thursday, September 29 at 7 PM – 8:30 PM
Harrison Auditorium at Penn Museum
We is proud to announce our 2016-2017 Annual Oration, featuring Jane Goodall! Following the Oration, there will be a book signing with Dr. Jane Goodall. A limited number of books will be available for purchase for $20.00 cash or Venmo.
As per Philo's mission statement of increasing intellectual accessibility, the Annual Oration is free and public.
Jane Goodall began her landmark study of chimpanzee behavior in July 1960 in what is now Tanzania. Her work at Gombe Stream would become the foundation of future primatological research and redefine the relationship between humans and animals. In 1977, Dr. Goodall established the Jane Goodall Institute, which continues the Gombe research and is a global leader in the effort to protect chimpanzees and their habitats. The Institute is widely recognized for innovative, community-centered conservation and development programs in Africa. To learn more about Dr. Goodall or the Jane Goodall Institute, please visit www.janegoodall.org.
In her lecture, Dr. Goodall will provide insight into the person behind the globe-trotting international icon: a UN Messenger of Peace, Dame of the British Empire, and the subject of countless articles and television programs around the world. She will discuss the current threats facing the planet and her five reasons for hope in these complex times, highlighting her 5th and newest reason for hope, the power of social media. Finally, she will encourage everyone in the audience to do their part to make a positive difference each and every day, reminding us that we all have the power to let our voices be heard through social media and other means.
Prior to her lecture, Dr. Goodall will receive the Krogman Award from the Penn Museum. This award is given to those individuals who are pioneering and transformative of knowledge within the related fields of human evolutionary studies. In the spirit and application of Krogman's own work, the recipient's research must be heavily data driven, synthetic, interdisciplinary and integrated into a life-long dedication to education and service to all humankind.
Dr. Goodall's honors include the French Legion of Honor, the Medal of Tanzania, and Japan's prestigious Kyoto Prize. In 2002, Dr. Goodall was appointed to serve as a United Nations Messenger of Peace and in 2003, she was named a Dame of the British Empire.
A limited number of tickets will be released to those with valid PennCards on 36th and Locust at the following times. You must bring a valid PennCard to reserve a ticket. Each person may reserve up to 2 tickets.
Monday September 12th at 12pm
Thursday September 15th at 4pm
Wednesday September 21st at 12pm
Friday September 23rd at 4pm
Members of the public:
A limited number of tickets are available for free for members of the public. (1) We recommend you wait in line at the Penn Museum prior to the event, as a limited number of seats will be available on a first come, first serve basis. (2)
Enter the public raffle here: https://goo.gl/forms/SIxUzMu4oVW4zuZo1
The deadline to register is 4:00pm, Friday September 23. Winners will be notified by 9:00am, September 26th. Only winners will be contacted.
Cosponsors: The Penn Museum, SPEC, Penn Sustainability Office, Penn FRES, Penn Medicine, SAC, SSAP, CAS, and Penn UA
Feel free to contact Michael Freeman (aodirector@philomathean.org) with any questions.
For parking information on Penn's campus, please visit http://cms.business-services.upenn.edu/parking/.
Dr. Jane Goodall and the Jane Goodall Institute do not endorse the handling of wild chimpanzees. The chimpanzee featured in this photo is an orphan living at the Jane Goodall Institute's sanctuary in Africa.
Show Post
2014 Annual Orator: Julian Treasure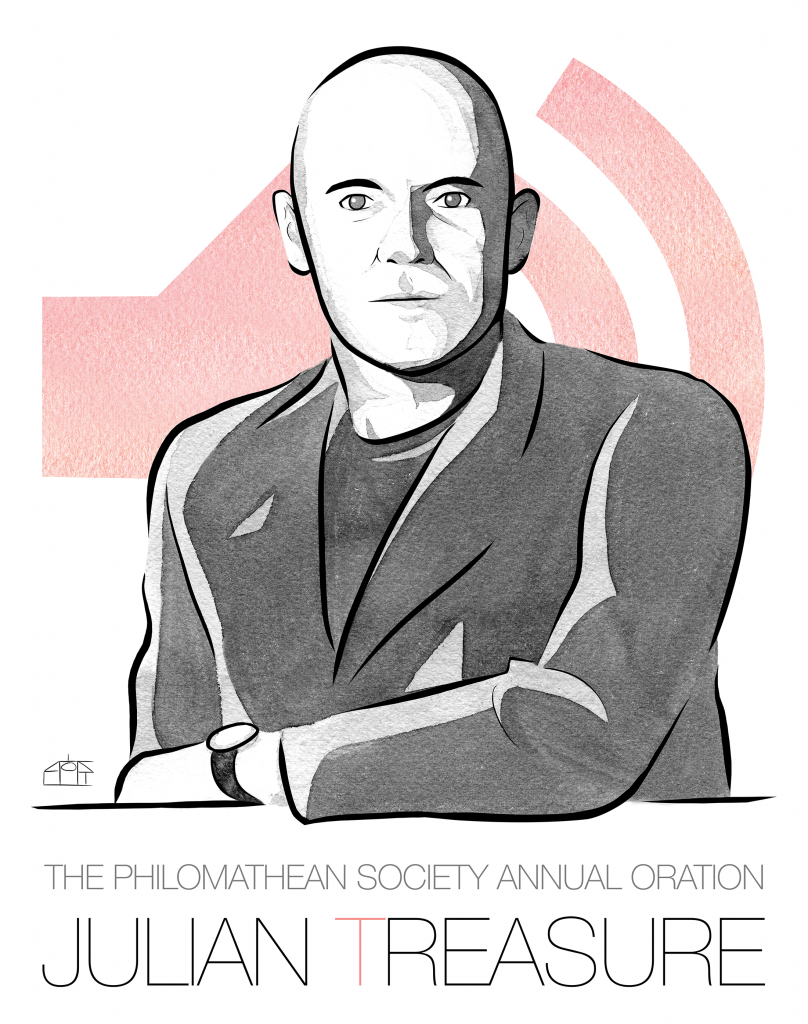 7:00pm Tuesday, March 25th | Huntsman Hall G06_
Do you hear that? Come and listen about how sound impacts every aspect of your life from bird song and ocean waves to that ambient music in Starbucks. Discover the ways in which it impacts your health, business, and even your daily routine in unexpected ways; learn the techniques to harness the power of sound.
Julian Treasure is author of the book Sound Business, the first map of the exciting new territory of applied sound for business, and he has been widely featured in the world's media, including TIME Magazine, The Economist, The Times, UK national TV and radio, as well as many international trade and business magazines. His three TED talks have been viewed an estimated four million times.
Julian is chairman of The Sound Agency, a UK-based consultancy that helps clients like BP, Harrods, Helm Bank, Sonae Sierra, Nokia, Honda, Unilever, Marks & Spencer, London InterContinental Hotel Park Lane, Saga, Colgate-Palmolive, Nestlé and BAA achieve better results by optimizing the sound they make in every aspect of business.
Show Post
2013 Annual Orator: Dr. Richard Dawkins
Date: March 12, 2013
Time: 6:30 PM
Location: Irvine Auditorium, 3401 Spruce Street
We're excited to announce our 2013 Annual Oration speaker, Richard Dawkins.
Richard Dawkins is the former Charles Simonyi Professor of the Public Understanding of Science at Oxford University and one of the world's most prominent evolutionary biologists and outspoken atheists. Among his books are The Selfish Gene, The Extended Phenotype, The Blind Watchmaker, Climbing Mount Improbable, A Devil's Chaplain, The God Delusion, and, most recently, The Magic of Reality: How We Know What's Really True. For the 2013 Bicentennial Philomathean Annual Oration, Dr. Dawkins will address the audience on the necessary role of science and skepticism in the modern world.
Tickets can be reserved here.
Show Post
2012 Annual Orator: Garry Kasparov
The Philomathean Society of the University of Pennsylvania and the Provost's Year of Games are proud to announce a public lecture:
A Talk by Garry Kasparov
Date: April 3, 2012
Time: 6:00PM (Doors open 5:30PM)
Location: Harrison Auditorium Penn Museum, enter at 33rd Street
Information Mr. Kasparov and the talk, as well as ticket reservations, after the jump.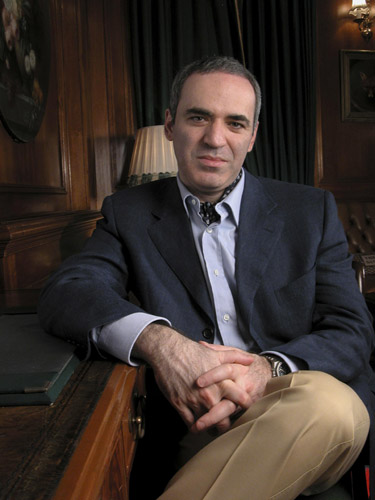 Kasparov began his chess career as a prodigy in the Soviet Union. As World Champion he set records in consecutive tournament victories, Chess Oscars, and highest ELO achieved. He was ranked the world's number one player for 255 months, more than three times as long as his closest rival. His contributions to chess theory and chess history in his book series On My Great Predecessors are also invaluable. Kasparov is known for his creative yet precise style of play, never shying away from fiery tactical games. His many accomplishments and his contributions to chess have given him a claim to being the greatest player of all time.
In chess retirement, Kasparov has become an important figure in Russian politics. He is the leader of The Other Russia, a pro-democracy and anti-Putin political party. Kasparov was a candidate in the 2007 Russian presidential race and continues to be an influential voice in Russian politics.
The Annual Oration will feature a talk by Mr. Kasparov on his experiences in chess and politics followed by a reception where the audience will have a chance to meet him.
Feel free to contact AO Director MD Mangini (aodirector@philomathean.org) with any questions.
For more information about the Philomathean Society, please visit http://www.philomathean.org.
For more information about the Provost's Year of Games, please visit https://secure.www.upenn.edu/themeyear/games/.
As of 11 am 2/28/12 we are out of tickets. However, if you would like to be put on the waitlist for the event you can fill out the form below.
Show Post
2011 Annual Orator: Dr. Jared Diamond
The Philomathean Society of the University of Pennsylvania and the Provost's Year of Water are proud to announce a public lecture:
A Talk by Dr. Jared Diamond
Washed Up: The Role of Water in the Collapse of Civilizations
Date: April 6, 2011
Time: 7:00PM
Location: Irvine Auditorium, 3400 Spruce Street
There are absolutely no more tickets remaining for the talk; there may be some open seats owing to no-shows on the night, but we cannot guarantee non-ticketed persons seats.
Information about Dr. Diamond and the talk, as well as our co-sponsors, after the jump.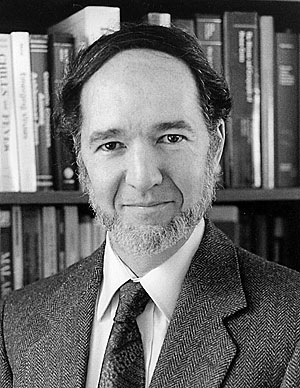 Jared Diamond is a major American public intellectual and leading scholar of physiology, ecology, conservation biology, and history. A recipient of the National Medal of Science, he is also the author of numerous widely-acclaimed books, including Guns, Germs, and Steel (recipient of the Pulitzer Prize), Collapse, The Third Chimpanzee, and Why is Sex Fun?. This talk promises to be an exciting and valuable opportunity to engage with a figure of international renown and interest.
After the talk, a public reception for Jared Diamond will be held in the Hall of Flags (Houston Hall, 1st Floor), to which all are invited.
Abstract: The ruined cities, temples, and statues of history's great, vanished societies (Easter Island, Anasazi, the Lowland Maya, Angkor Wat, Great Zimbabwe and many more) offer more than idle conjecture: the social collapses were due in part to the types of environmental problems that beset us today. Yet many societies facing similar problems do not collapse. What makes certain societies especially vulnerable? Why didn't their leaders perceive and solve their environmental problems? What can we learn from their fates?
Co-Sponsors: The Social Planning and Events Committee (SPEC) Fully Planned Fund, SPEC Connaissance, The Undergraduate Assembly, The Student Activities Council, The Department of Earth and Environmental Science, The Department of Chemistry, The Nursing School, The Initiative for Global Environmental Leadership, The Law Program in the Department of Legal Studies and Business Ethics, The Department of Political Science, The Roy and Diana Vagelos Program of Life Sciences and Management, The Department of Classical Studies, Harrison College House, Center for Ancient Studies, The Department of Psychology, The Department of African Studies, The Department of History, The Green Campus Partnership, The College of Arts and Sciences, The Department of History and Sociology of Science, Penn Professional Staff Assembly, The Department of English, Center for East Asian Studies
Feel free to contact Alec Webley (moderator@philomathean.org) with any questions.
For more information about the Philomathean Society, please visit http://www.philomathean.org.
For more information about the Provost's Year of Water, please visit https://secure.www.upenn.edu/themeyear/water/.
For more information about Dr. Diamond, check out his TED talk at http://www.ted.com/speakers/jared_diamond.html.
Show Post
2010 Annual Orator: Judith Butler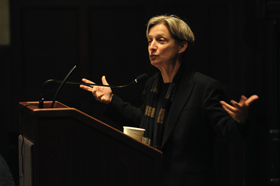 6 PM, 3 March, 2010 | Hall of Flags
The Annual Orator for 2010 was Dr. Judith Butler, who delivered her oration on "From Performativity to Precarity" in 
the Hall of Flags, Houston Hall, on Wednesday, March 3, 2010.
For more details on the talk, see the relevant Daily Pennsylvanian article.
Radical philosopher Judith Butler has contributed immensely to fields ranging from political science to comparative literature, but her influence has undoubtedly been greatest in the field of feminist theory. Her book "Gender Trouble" has become a foundational work of gender studies and her subsequent books have enjoyed similar fame. Professor Butler is currently the Maxine Elliott professor in the Departments of Rhetoric and Comparative Literature at the University of California, Berkeley and the Hannah Arendt Chair at the European Graduate School EGS.
Philo thanks its cosponsors for the 2010 Annual Oration: SPEC Connaissance, SPEC Fully Planned, The College of Arts and Sciences, DuBois College House, Penn Program in Democracy, Constitutionalism and Citizenship, Penn Humanities Forum, The LGBT Center, The Women's Center, Queer Student Alliance, The Departments of Philosophy, History, Women's Studies, Comparative Literature and Political Science.
Show Post